Javascript is disabled. Quiz scoring requires Javascript.
Martin Luther King Jr. Day: A quiz on the struggle for a national holiday
The Rev. Dr. Martin Luther King Jr. was one of the world's most eloquent and tireless champions of non-violent social change. The Atlanta-born civil rights leader was integral to the movement that eventually broke down archaic segregationist barriers across the country, culminating in President Lyndon Johnson's signing of the Civil Rights Act in 1964. A Nobel Peace Prize laureate at age 34, Dr. King was also an advocate for peace and justice around the world, and his "I Have a Dream" speech, given on the steps of the Lincoln Memorial in 1963, continues to inspire those who struggle for equality.
For two decades, the third Monday of January has been designated a federal holiday in the U.S. But the creation of Martin Luther King Jr. Day was a difficult process, with supporters often fighting an uphill battle. Take this quiz to test your knowledge of this day of remembrance, and the man whose life and works it honors.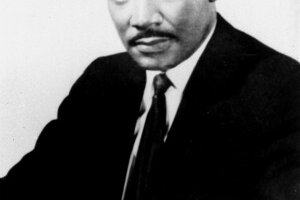 AP/File
1.

Which other U.S. citizen has been honored with a federal holiday?

Franklin Delano Roosevelt