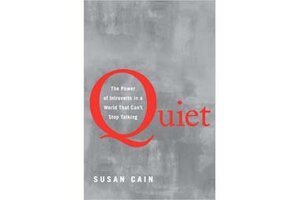 2.

HARDCOVER NONFICTION

1. Steve Jobs, by Walter Isaacson, S&S
2. Unbroken, by Laura Hillenbrand, Random House
3. Quiet: The Power of Introverts in a World That Can't Stop Talking, by Susan Cain, Crown
4. Thinking, Fast and Slow, by Daniel Kahneman, FSG
5. Killing Lincoln, by Bill O'Reilly, Martin Dugard, Holt
6. Ameritopia, by Mark R. Levin, Threshold Editions
7. American Sniper, by Chris Kyle, et al., Morrow
8. Goodnight iPad, by Ann Droyd, Blue Rider
9. Go the F**k to Sleep, by Adam Mansbach, Ricardo Cortes (Illus.), Akashic
10. Catherine the Great, by Robert K. Massie, Random House
11. In the Garden of Beasts, by Erik Larson, Crown
12. Elizabeth the Queen, by Sally Bedell Smith, Random House
13. The End of Illness, by David B. Agus, M.D., Free Press
14. The Obamas, by Jodi Kantor, Little Brown
15. Arguably, by Christopher Hitchens, Twelve

ON THE RISE:
19. Guitar Zero: The New Musician and the Science of Learning, by Gary Marcus, Penguin Press
An inspiring look at the pursuit of music, the mechanics of the mind, and the surprising rewards that come from following one's dreams.