8 dogs profiled in 'Soldier Dogs'
Four-legged participants in America's military engagements have been making headlines ever since the public learned about Cairo, the dog who accompanied the Navy SEAL team in their strike against Osama bin Laden. Dogs are today considered invaluable in the military, particularly for their skills in bomb detection. In Soldier Dogs, Maria Goodavage details the training of canine military members, the lives of the dog's handlers, and some of the situations military dogs encounter. Here are 8 of the canines profiled in her book.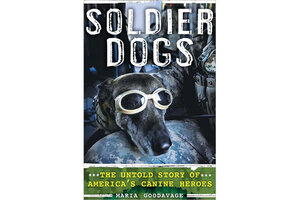 1.

Monty E030

Monty worked as a Patrol Explosive Detector Dog with his handler, Brandon Liebert, who was a marine sergeant. Liebert spent three years with the dog and remembers taking Monty with him everywhere. When Liebert celebrated the Marine Corps Birthday with his colleagues and they all received steak, he asked that Monty receive one, too. Liebert says that Monty was assigned to another handler, a common situation with the military dogs, it was hard for him. "It's disconcerting," he said. "Especially when you've been together as long as we had."