'Game of Thrones': 6 characters in crisis in Season 2
The HBO series 'Game of Thrones' – based on the "Ice and Fire" series (still in progress) by George R.R. Martin – has captivated viewers and critics alike with its dense plot about various families feuding over the crown of the fictional country of Westeros. Season 2 of 'Game of Thrones' will premiere Sunday, April 1. In the new season, six characters will find themselves in particular peril as the struggle for the throne comes to a head.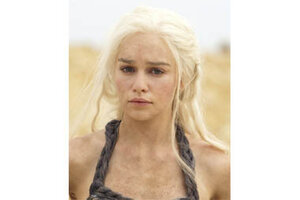 Paul Schiraldi/HBO/AP
1.

Daenerys Targaryen

Daenerys, the last confirmed member of the ancient Targaryen Dynasty, was left in a perilous position when her husband, Khal Drogo, a warlord of the Dothraki people, died. However, after entering Drogo's funeral pyre, Daenerys came out unharmed with three newly hatched dragons, a feat that was viewed as miraculous. She is now the leader of the Dothraki horde formerly ruled over by her husband and is determined to take the throne of Westeros. But there are several others who also have a claim to the throne, and they may decide the best way to take power is by trying to kill the young female usurper.