3 new "Titanic" books
It was the ship that launched a thousand stories: of chivalry and courage, love and loss, and the hubris behind it all. No one on the Titanic that fateful night 100 years ago is still alive. But the memories live on, and not just in "A Night to Remember," the 1955 classic by Walter Lord that spawned Titanicmania. A trio of new books – two of which are excellent – allows readers to relive what came before, during, and after that bitterly cold night on the Atlantic. We can pretend we're there, amid the rich or the poor or those in between, and wonder if we would have done the right thing. Or even been able to figure out what that was.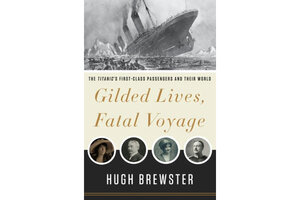 1.

'Gilded Lives,' by Hugh Brewster

The Titanic – "a small world bent on pleasure," as one high-class passenger put it – was home to more than its share of lies, secrets, and myths even before it reached that iceberg in the Atlantic. The greatest untruth, of course, was that the ship could not sink. But plenty of passengers were concealing lies of their own. The friendly card player across the table might be a cheat. That striking young film star – famous because of a magazine cover artist's ability to fudge her looks – had a married paramour back home. And it seems that several passengers, possibly including a "dandified" famous aide to President Taft, were secretly or not-so-secretly gay. The greatest ship-borne collection of celebrities of its time could produce quite the craven and sensational tell-all book. But Hugh Brewster, an author who lives in Toronto, stays classy in the delicious, wonderfully readable Gilded Lives, Fatal Voyage: The Titanic's First-Class Passengers and Their World (Crown Publishing, 352 pp.), Brewster is unabashedly intrigued by the rich and their sometimes wicked ways. But he also has a noble motive: to "convey anew the poignance of this epochal disaster." He manages to do just that by spending half the book on the events before the ship met the iceberg, allowing us to meet and appreciate the very most upper-crust, warts and all.