6 odd baseball rituals
So many sports fans have them – the rituals, failsafes, and crossed-finger methods intended to ensure that their team goes on to victory. A favorite jersey worn on game day, leaving or entering the room at the right time, sitting in the right chair – all are methods diehards believe will turn the tide in a game. Writer Hart Seely, a serious New York Yankees fan, has collected a wealth of such rituals and traditions in his new book 'The Juju Rules.' Here are six examples from his book.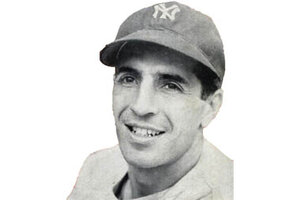 1.

Phil Rizzuto and Utica

Seely remembers broadcaster and former New York Yankees shortstop Phil Rizzuto frantically talking about the city of Utica when the Yankees were at bat. "Phil Rizzuto made it a point never to switch topics during a Yankee rally," Seely wrote. "He might be recounting a recent trip to Utica, a story with no remote connection to the game." Seely would listen to Rizzuto talk as long as needed about the city, with local restaurants or other landmarks making occasional cameos. "Later, if the Yankees needed a run, he'd resurrect the Utica trip, just to see if any magic remained in the tank."