5 great mystery books for kids
Younger readers love unraveling a mystery as much as anyone – but how do you find an thriller that's appropriate for a middle-grade reader? Here are five children's mysteries nominated in the Best Juvenile category for the 2012 Edgar Awards. These engaging stories are aimed at readers in the 8-12-year-old range.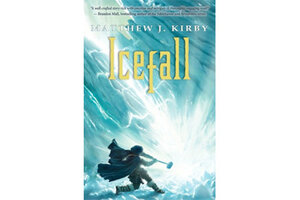 1.

'Icefall,' by Matthew J. Kirby

Matthew J. Kirby's "Icefall" – winner of the 2012 Edgar Awards in the Best Juvenile category – is the story of a princess named Solveig, who must stay in a fortress with her brother, sister, and an army of the king's men as they wait for news of the monarch's fate in battle. As the group is forced to stay on in the fortress throughout the dead of winter, the residents begin to suspect there's a turncoat among them, and it's up to Solveig to discover the truth.