'Jackie After O': 5 stories about Jacqueline Kennedy Onassis
As author Tina Cassidy points out, for the first decades of her adult life, Jacqueline Kennedy Onassis was most often identified by her husbands. But in 'Jackie After O,' Cassidy examines the year that Aristotle Onassis died – suddenly leaving his widow free to take a job (at Viking Press), to fight to preserve New York's Grand Central station, and follow other pursuits of her own choosing. Here are five vignettes from Cassidy's book, which span from the former First Lady's time as Mrs. Kennedy to her years as Mrs. Onassis and then on to the life she enjoyed on her own.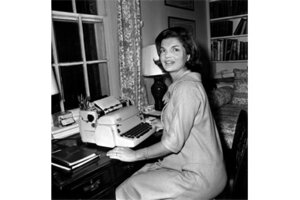 1.

A newspaper editor on John and Jackie

After Jacqueline Kennedy Onassis and John F. Kennedy began dating, Frank Waldrop, Onassis's editor at the Washington Times-Herald where she was working as a columnist and photographer, told her that Kennedy "doesn't want to get married." "[He's] older than you and far more experienced," Waldrop told Onassis. "Mind your step." Onassis replied, "Yes, sir" with what was reportedly a bit of an eye-roll.