5 stories about life in Paris
When he thought of Paris, Baldwin dreamed of cafes and croissants, so he was overjoyed when he was able to secure a job at an advertising agency in the city. However, once he arrived, he quickly realized that there were some realities of living in Paris that he hadn't quite understood. Baldwin's book charts how he arrived in Paris, became quickly disenchanted, but then slowly fell back in love with the city. Here are five of his stories of his time there.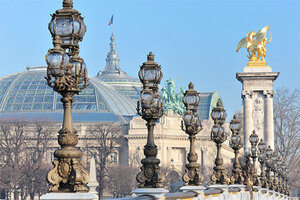 1.

A shorter interview than he expected

Baldwin applied to work at an advertising agency in Paris and was brought in by an old friend who worked at the company to interview with the boss, Bernard, who "wore Beatle boots and a slim black suit and spoke perfect English, with a Valley girl's cadences," Baldin wrote. "I spoke a little French; Bernard suggested I stop.... He wanted to know, Bernard said, how I felt about doing presentations. 'So, look, there's a lot of global business out there. We need, like, a hundred of you,' he said. 'English-speakers, I mean.... How do you feel about Paris, good?'" Baldwin said he loved it. That was the end of the interview, and he got hired.