10 books by and about Keith Haring
Artist Keith Haring, best known for his vibrant street art executed in thick lines and bright colors, became a global force in the art world and created many instantly recognizable works over the course of his life. Haring – who died in 1990 at the age of 31 – also became known for his work raising awareness about AIDS. Here are 10 books that help to bring Haring, his life, and his work into sharp relief.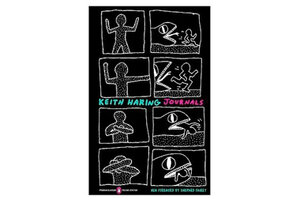 1.

'Keith Haring Journals', by Keith Haring

Haring, who was inspired early in life by the work of Walt Disney and Dr. Seuss, first came to the attention of the public with his artwork in the New York subway beginning in 1980. During this time, he also planned exhibitions at Club 57, a New York nightclub where many musicians and artists got their start, in events in which he would often take part.

His first solo exhibit was in New York in 1981. Haring also crafted images for ad campaigns and local theaters as well as creating murals. His art became recognized for its social commentary, and Haring himself became known for the work he did with children, including holding drawing workshops for them around the world. Haring died from AIDS-related complications in 1990, having first established the Keith Haring Foundation that supports programs for children and for AIDS awareness.

Haring's journals include entries he made from the age of 19 until his death at 31 and discuss topics such as the New York art scene as he experienced it, his personal life, and his feelings about the impact his art made on the world.