Maurice Sendak: 10 essential quotes
Children's writer and illustrator Maurice Sendak, who was born in Brooklyn, N.Y., and made window displays for FAO Schwarz before becoming an illustrator and writer, will be remembered as a giant in the world of children's literature. His best known book "Where the Wild Things Are," published in 1963, was a game-changer for its genre. Its story of a young protagonist named Max, who journeys to a mysterious land populated by monsters, took children's books from the realm of the safe and the cozy into a land of darkly imaginative dreams.
Sendak also worked as the illustrator for the beloved "Little Bear" series (the first book was published in 1957) and wrote and illustrated many other books including classics such as "In the Night Kitchen" (1970) and "The Sign on Rosie's Door" (1960).
He said he was profoundly influenced by the deaths of some of his extended family members in the Holocaust. "I can't say exactly why," he told the Monitor. "But I am still trying to filter through all that business in my life and turn it into art."
Barbara Gilbert, the curator of fine arts for the Skirball Museum in Los Angeles, where an exhibit about Sendak's work was held, said that Sendak moved the children's book genre beyond amusing pictures.
"Children's books were always very pretty," Gilbert said. "But Sendak wanted them to be honest."
Sendak died on May 8, 2012.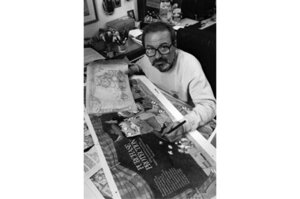 1.

On writing for children versus adults

"I don't believe that there's a demarcation. 'Oh, you mustn't tell them that. You mustn't tell them that.' You tell them anything you want. Just tell them if it's true. If it's true, you tell them."

-From the documentary "Tell Them Anything You Want: A Portrait of Maurice Sendak"