Yogi Berra: 21 quotes for his birthday
Baseball Hall of Famer Yogi Berra played for the New York Yankees for 17 years and the New York Mets for two years before retiring and eventually becoming manager of each team. The former catcher and outfielder turns 87 on May 12th. Aside from his funny nickname, Berra is well known for his memorable malapropisms and the down-to-earth wisdom they contain. Here are some of the more memorable ones.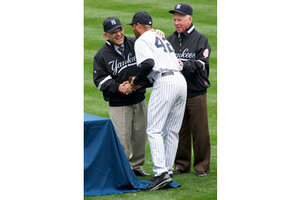 By chris.ptacek (Untitled) [CC-BY-2.0 (www.creativecommons.org/licenses/by/2.0)], via Wikimedia Commons
1.

Reciprocity

"Always go to other people's funerals; otherwise they won't go to yours."