Harriet Beecher Stowe: 10 memorable quotes on her birthday
American abolitionist writer Harriett Beecher Stowe was born on June 14, 1811 to Lyman Beecher, a Congregationalist minister. A highly influential figure in the antislavery movement, Harriet is best known for her best selling novel "Uncle Tom's Cabin" (1850), a novel that captivated readers across the country with its vivid and emotional picture of the cruel realities of slavery as she had witnessed it. She also wrote over 20 books in her lifetime including memoir, articles, and letters. Her impact on the country was so enormous that upon meeting Stowe, President Lincoln is alleged to have said, "You're the little lady who started this great war." Today, the house in Brunswick, Maine in which Stowe wrote "Uncle Tom's Cabin" is a national landmark.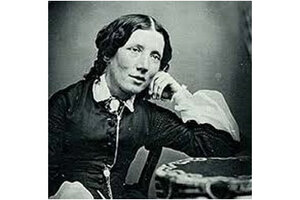 1.

Persistence

"When you get into a tight place and everything goes against you until it seems that you cannot hold on for a minute longer, never give up then, for that is just the place and time when the tide will turn."