5 portrayals of Anne Boleyn in pop culture
Anne Boleyn, a queen of England, was the second wife of King Henry VIII. The monarch remains notorious for his six wives and the way that some of them met their ends. (Two were beheaded on his orders). Boleyn is the protagonist of Hilary Mantel's current bestseller "Bring Up the Bodies," but this isn't the first time she's been the heroine – or villain – of a book or movie. Here are five other portrayals of Anne, ranging from those that paint her as an amoral schemer to those that portray her as a young woman who simply was in over her head.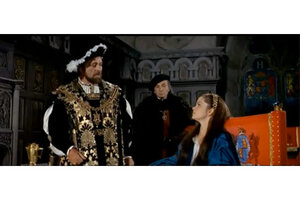 1.

'Anne of the Thousand Days'

This play by Maxwell Anderson was first performed onstage in 1948, with actress Joyce Redman as the queen. In 1969 the play was turned into a movie starring actress Geneviève Bujold – who was nominated for an Oscar – as Anne. Actor Richard Burton played Henry VIII and was also nominated for an Oscar. The film portrays Henry as going to any lengths to make Anne his, including breaking up an engagement into which Anne had entered, which makes her furious. In the movie, Anne despises Henry at first. "I've seen what you are," she tells him. "You're spoiled and vengeful and bloody." Anne is portrayed as honestly surprised by Henry's idea to make her queen.