'Why You're Not Married...Yet' author offers advice for readers
Huffington Post writer Tracy McMillan won over readers with her advice on relationships in her article "Why You're Still Not Married." Now her book "Why You're Not Married...Yet" offers tips for those who might be behaving – without knowing it – in ways that that could either discourage potential significant others or hurt current relationships. Here are 5 of McMillan's tips from her new book.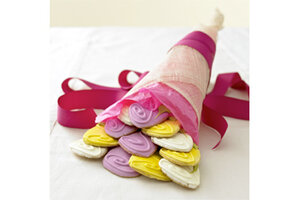 1.

Stop judging

McMillan writes that sometimes, people get too hung up on exact specifications they have for someone they date. "You won't settle for something that's good enough – it has got to be ideal," she writes. "You want every single need and desire you have to be satisfied, preferably right now, by finding, dating, and marrying the one person who has it all... the problem with perfectionism is that it is so dehumanizing. It causes you to see people not as human beings but as things. Objects. Have you ever heard the saying 'The perfect is the enemy of the good'? That's what happens when you allow yourself to give in to your perfectionist tendencies." McMillan says to take chances on people you may not think of yourself as being attracted to – if there's no attraction there, that's one thing, but don't immediately dismiss people.