Helen Keller: 12 memorable quotes
Helen Keller was born a normal, healthy baby on June 27, 1880, but, due to sudden illness, she lost both her sight and hearing at only 18 months of age. Her parents enlisted to help of Anne Sullivan, a recent graduate of Perkins Institute for the Blind, to teach Helen. Anne and Helen built a lifelong relationship. With Anne's assistance, Helen was able to go on to gain a formal education at the Horace Mann School for the Deaf in Boston, where she learned not only to write, but also to speak. After graduating from college at the top of her class, Helen became involved in social and political activism. Over the course of her life she received numerous honors and medals for her work and accomplishments as well as several honorary degrees. Below are twelve inspirational quotes from this extraordinary woman.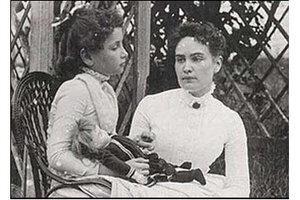 1.

Taking Risks

"Avoiding danger is no safer in the long run than outright exposure. The fearful are caught as often as the bold."