Nathaniel Hawthorne: 10 quotes on his birthday
American novelist Nathaniel Hawthorne was born on July 4, 1804 in Salem, Massachusetts, where his great grandfather, John Hathorne, had been one of the three judges who presided over the Salem Witch trials. Hawthorne distanced himself from the connection by adding a "w" to his last name. He graduated from Bowdoin College in 1821, where he became close friends with Henry Wadsworth Longfellow and future president Franklin Pierce. After graduating, Hawthorne lived for a time at the experimental Brook Farm in Massachusetts. Once married, Hawthorne he rented a house in from Ralph Waldo Emerson and joined the Transcendentalist literary circle in Concord. During his writing career, Hawthorne published a number of short stories that were eventually compiled in the collection "Twice-Told Tales." His most famous work, "The Scarlet Letter," was published in 1850. When he met Herman Melville, he began writing "The House of Seven Gables" (1851), soon followed by his novel "The Blithedale Romance" (1852) – a thinly disguised critique of Brook Farm. When college friend Franklin Pierce was elected to the presidency, Hawthorne was asked to take a position as US Consul in England. During his time in Europe, Hawthorne traveled to Rome where he was inspired to write his novel, "The Marble Faun" (1860). Hawthorne died in an Inn in 1864 while on a tour of the White Mountains in New Hampshire where he had traveled with Pierce.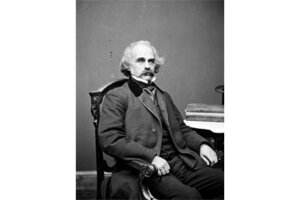 1.

Heroism

"A hero cannot be a hero unless in a heroic world."