'Let's Pretend This Never Happened': 7 stories from a memoir by The Bloggess
After amassing a following as a blogger known as The Bloggess, Internet personality Jenny Lawson now shares stories of childhood, marriage, and motherhood in her memoir 'Let's Pretend This Never Happened,' which details everything from coping with aggressive pet turkeys to cooking microwave macaroni and cheese. Here are seven of Lawson's stories.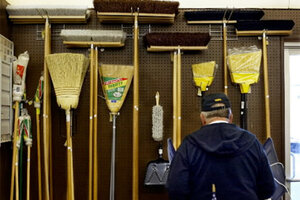 1.

Taking revenge as a three-year-old

Lawson writes that her first home was in Austin, Texas, in an apartment near a military base. She lived there as a toddler with her parents. "Late at night I would stand up in my crib, open the curtains, and attempt to wave soldiers on the street up to my room," she wrote. Her parents soon moved her crib to a different spot, no longer near the window. "Apparently I was really distraught about this whole arrangement, because the very next week I shoved a broom into the living room furnace, set it on fire, and ran through the apartment screaming and swinging the flaming torch around my head. Allegedly. I have no memory of this at all, but if it did happen I suspect I was probably waving it around like some kinda awesomely patriotic, flaming baton. To hear my mother tell it, I was viciously brandishing it at her like she was Frankenstein's monster and I was several angry villagers. My mother refers to this as my first arson episode. I refer to it as a lesson in why rearranging someone else's furniture is dangerous to everyone. We've agreed to disagree on the wording."