Surviving Harvard: 7 stories from freshman year
Harvard University – dream school of high school students around the world – remains somewhat shrouded in mystery for many of us. One former undergrad, Eric Kester, has been through it all, with various disasters along the way, and shares his stories in his new book titled, appropriately enough, 'That Book About Harvard.' Here are 7 of his stories.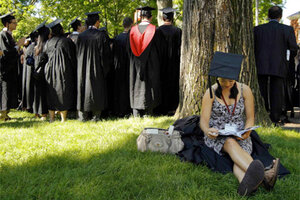 1.

Joy turns to apprehension

After Kester got his acceptance letter and realized that he'd be able to attend Harvard University, he examined the brochure and began to get nervous. "There was one photo of a guy in a white lab coat mixing test tubes of chemicals, then another of a young woman at a blackboard writing what appeared to be Egyptian hieroglyphics," he wrote. "Or maybe it was calculus.... I wasn't sure. For some reason, I felt my chest begin to tighten. Next was a picture of a student relaxing with a magazine in his dorm room. It wasn't a magazine I'd qualify as 'leisure reading'... It was 'The Economist,' and the guy was giggling with delight while reading it. My hands felt sweaty as I quickly turned the page."