10 little-known stories about the Olympics
What does it take to record 116 years of summer Olympics history? For author-researcher David Wallechinsky, who basically owns the "franchise" when it comes to chronicling the world's largest sports gatherings event by event, it requires 1,334 pages in a nearly 2-1/2-inch thick volume: The Complete Book of the Olympics, 2012 Edition. This impressive work, co-authored by Jaime Loucky, lists not only the results of every single event from the decathlon to windsurfing, it also carries summaries of each Olympics, medal standings, short explanations about each sport and even information about discontinued sports and events such as cricket and rope climbing. Digging into its nooks and crannies leads to some interesting discoveries. Here are 10 worth sharing.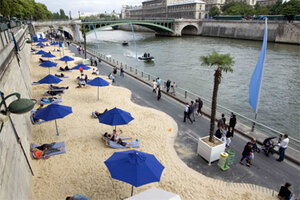 1.

Women in the Olympics

At the second modern Olympics, held in Paris in 1900, women competed for the first time. Their participation, however, was hardly a test of "faster, higher, stronger, " since the 21 women were entered in croquet and golf. Chicago socialite Margaret Abbott became the first US woman gold medalist when she shot a 47 in the final nine-hole round of the golf competition. Because of the less formal nature of the competition (some women played in high heels), Abbott never realized that her victory was considered part of the Olympics. Another reflection of the unique nature of these Olympics is that the swimming events were held in the Seine, where an obstacle race was on the program and the river current contributed to the fast times.