A literary road trip through New England
Summer is the perfect time for road trips, so why not take one that's educational at the same time? New England overflows with literary history, and also happens to be small enough to see multiple locations per day. Visit the homes and museums of famous American literary figures like Longfellow, Alcott, and Twain, and take in the beautiful scenes and summer breeze as you drive through Connecticut, Massachusetts, and New Hampshire.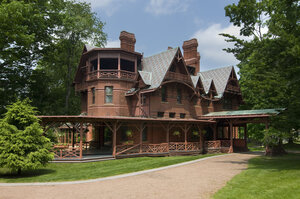 John Groo for The Mark Twain House & Museum
1.

The Mark Twain House and Museum

Where better to begin your journey with than the home of the author celebrated by William Faulkner as the "father of American literature?" Although Mark Twain is known for his Missouri roots, he moved to Hartford, Conn., in 1874 and built an extravagant Victorian home for his family, which included his wife Olivia and their three daughters. Much like Twain, the house is known for its unpredictable characteristics. Intricate designs pattern both interior and exterior, and features appearing to be pairs turn out to have subtle differences. During his time in the house Twain penned some of his most famous works, including "Huckleberry Finn," "The Adventures of Tom Sawyer," "Life on the Mississippi," and "A Connecticut Yankee in King Arthur's Court." Although Twain ran into financial troubles and had to sell the house in 1891, it was preserved by neighbors and others who admired Twain.