'Hello, Goodbye, Hello': 6 oddball meetings between celebrities
From Marilyn Monroe and Nikita Khrushchev to Richard Nixon and Elvis Presley, it turns out a lot of people you'd never imagine together actually bumped into each other at one time or another. In his book 'Hello, Goodbye, Hello,' author Craig Brown weaves a number of these meetings into a circular story, beginning with Adolf Hitler getting hit by a car driven by John Scott-Ellis, who would become the Baron de Walden, and, then coming full circle when Hitler finally sits down to tea with the Duchess of Windsor. Here are 6 of the oddest meetings Brown includes in his cycle of encounters between famous figures.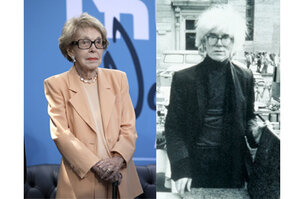 1.

Nancy Reagan and Andy Warhol

Warhol hired Nancy Reagan's daughter-in-law, Doria Reagan, to work at his magazine, Interview, and eventually it was arranged that Warhol would conduct an interview with Nancy Reagan. Warhol said it was awkward – the interview took place in a reception room and Warhol, Doria Reagan, and Warhol's friend Bob Colacello were each given a glass of water. During the interview, Warhol said to Nancy Reagan, "The funny thing about movie people is that they talk behind your back before you even leave the room." "I am a movie person, Andy," Nancy Reagan reportedly replied. Warhol felt they weren't made welcome. "She could have done it in a good room, she could have used the good china!" he said. "I mean, this was for her daughter-in-law, she could have done something really great for this interview but she didn't. I got madder and madder thinking about it."