Julia Child: 10 wonderful quotes on her birthday
Julia Child was born on August 15, 1912, in Pasadena, Calif. Child's father was a Princeton graduate and an investor in California real estate. In 1930, Child attended Smith College, planning to become a writer. When she graduated, Child moved to New York where she worked in the advertising department of W&J Sloane. During World War II, Child worked as a research assistant for the Office of Strategic Services, and played a significant role in distributing classified documents between US government officials and their intelligence officers. It was during her time there that Child met her future husband, Paul Child. After their marriage, Paul was sent abroad to Paris. While living in France, Julia began taking classes in French cuisine and attended the famous Cordon Bleu school. Shortly after, Julia met Simone Beck and Louisette Bertholle and the three began collaborating on a cookbook that adapted French cuisine for mainstream Americans, titled "Mastering the Art of French Cooking." The cookbook was an immediate success. Child began her television series, "The French Chef" in 1962 and revolutionized the way Americans thought about food. In 2000 Child received France's most prestigious honor, the Legion d'Honneur. Today, Child's name has become synonymous with the art of cooking. Most recently her story was adapted into the film "Julie & Julia."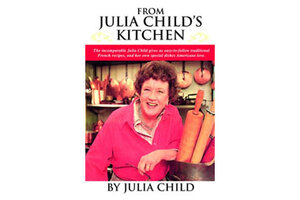 1.

How to find happiness

"Find something you're passionate about and keep tremendously interested in it."