'Paterno': 8 stories from the biography
Today, the automatic association made with the name of Joe Paterno is the recent scandal involving former Penn State assistant coach Jerry Sandusky. But Joe Posnanski's biography covers the entire life of Paterno the football legend, from his beginnings playing college football to the fallout from the Sandusky discoveries. Here are eight stories from the book.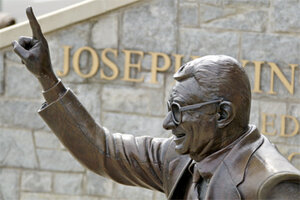 1.

The statue

The statue of Paterno on the campus of Penn State, which became a lightning rod for controversy after the Sandusky scandal came to light, wasn't admired by its model. "Paterno disliked this statue," Posnanski wrote. "Not because of the craftsmanship or the dimensions or anything like that.... The reason was a single finger, the index finger, that the statue of Joe Paterno raised to the heavens. We're No. 1. That's what that finger said. To Paterno, that finger was proof that they never got him, never really understood what drove him."