Jesse Owens: 10 quotes for his birthday
Jesse Owens is destined to forever be known as the athlete whose feats at the 1936 Berlin Olympics threw a monkey wrench into Adolf Hitler's propaganda machinery. Although Hitler anticipated the Games would be a showcase for Aryan superiority, the American star from Ohio State University made off with four gold medals – in the long jump, 100- and 200 meter dashes, and the 4 x 100 relay. A preview of his exceptional abilities had occurred at a college meet in 1935 when he set three world records and tied a fourth. As an African American, he often encountered segregation, but was saluted with a ticker-tape parade in New York upon returning from the Olympics. He quickly turned professional, staging races of various kinds, including against racehorses. In 1955 President Eisenhower named him an Ambassador of Sport. Here are 10 quotes from Owens on his birthday.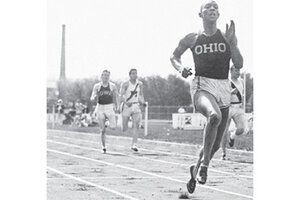 1.

Sprinting philosophy

"I let my feet spend as little time on the ground as possible."