Roald Dahl: 10 quotes on his birthday
Roald Dahl was born on September 13, 1916 in Llandaff, Wales to Norwegian parents. When he was three years old his father died, leaving his mother alone with three children. Dahl attended a boarding school in England, but was unhappy for much of his time there. In 1934, Dahl began to work for Shell Petroleum Company and was sent to work in East Africa. When World War II broke out, Dahl took a position as an officer in the King's African Rifles and later fought in the Air Force as a fighter pilot. During the war Dahl began writing. His first published piece retold the story of his near-fatal plane crash in the desert. Dahl published his first children's book, "The Gremlins," in 1945. In 1953 Dahl married the actress Patricia Neal. Together they had three children. Many of Dahl's bedtime stories served as the inspiration for his children's stories. Dahl's children's books include,"James and the Giant Peach" (1961), "Charlie and the Chocolate Factory" (1964), "The BFG" (1982), "The Witches" (1983), and "Matilda" (1988). Less known are Dahl's adult novels, which feature dark humor and surprising endings. Dahl was given three Edgar Allen Poe awards for his work.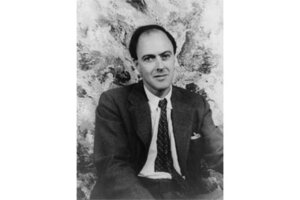 1.

A little nonsense

"A little nonsense now and then is relished by the wisest men."