Stephen King: 10 quotes on his birthday
Stephen King, America's master-writer of horror, suspense, and thriller novels, was born in Portland, Me., on Sept. 21, 1947. When he was two years old his father went out to get cigarettes and never returned, leaving his mother to raise him and his older brother alone. King began writing his own stories by the age of seven. He published his first story – "I Was a Teenage Grave Robber" – in serial form at the age of 18. King graduated from the University of Maine in 1970 with a B.A. in English and a teaching certificate. While teaching and working several odd jobs, King continued to write short stories for several magazines and eventually got his first novel, "Carrie," published by Doubleday & Co in 1973. The novel's success allowed King to quit his other jobs in order to write full time. To date he has published over 150 works including short stories and novels. Some of his best known works include "Salem's Lot" (1975), "The Stand" (1978), "Misery" (1987), "Pet Sematary" (1993), and "The Dark Tower" novels (1982-2004).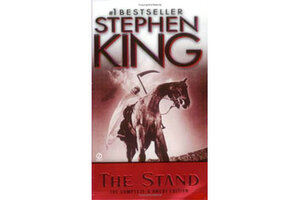 1.

Fiction

"Fiction is the truth inside the lie."