5 stories from Stephen Tobolowsky's 'The Dangerous Animals Club'
Actor Stephen Tobolowsky has become known for his range of roles in movies and television over the past decades, from 'Groundhog Day' to the TV series 'Glee.' In his debut collection of essays, he reflects on everything from his childhood to trying to survive in Hollywood.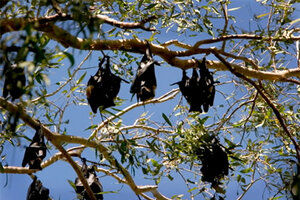 1.

Bat communication

On one family vacation, Tobolowsky was awoken by his son William, who told Tobolowsky that he had learned to speak with bats. Tobolowsky was confused, but followed his son outside, where William began squeaking. "Overhead I saw a dark circle forming," he wrote. "I couldn't believe it. It was clear that my son was doing something that engaged the bats on a critter level.... Occasionally a bat would swoop out of the sky and land on his shoulder. My reaction was a strange mix of pride and nausea. He was a genius. Kind of like the young Mozart, except instead of playing the piano blindfolded, he was a vermin magnet. Like any good father, I tried to calculate ways I could monetize this ability. The only options that came to mind involved the circus or the military."