10 best books of October, according to Amazon's editors
Does it seem like everybody's talking about J.K. Rowling and "The Casual Vacancy"? Sara Nelson, editorial director of books and Kindle for Amazon.com, has got an opinion as well. She's read the book and calls it "witty," with "a certain sly knowingness about a certain kind of people." However, the books that Nelson is most excited about this month are the 10 titles that she and the Amazon editors have picked as the cream of the October 2012 crop. Here – with Nelson's comments – are those books.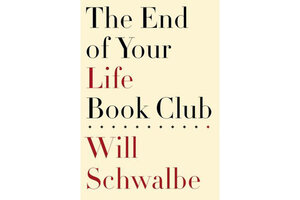 1.

"The End of Your Life Book Club," by Will Schwalbe

The October book picked by Amazon's editors as their Spotlight Selection of the month is Will Schwalbe's memoir "The End of Your Life Book Club," which chronicles the last two years of his mother's life and the books they shared together during those months. This is a book that Nelson calls, "bookish but also human," as Schwalbe explores the relationship he and his mother develop through their shared reading. "Get out the tissues," advises Nelson, "but not in a cloying way." What's touching here, she says, is that Schwalbe is "the son you'd like to have and she's the mother we'd all like to have."