John Lennon: 40 quotes on his birthday
John Lennon was never at a loss for words. His acerbic wit and clever turns of phrase served as ballast to Paul McCartney's lighter-than-air lyrics and melodies while they collaborated during the Beatles' heyday. After the group's bitter breakup, Lennon's initial solo work mostly found him angry and lashing out at enemies, real and imagined. At times, he seemed to argue with himself. Then, toward the end of his tragically short life, his lyrics began to celebrate his wife Yoko, son Sean, and the joys of home life. Lennon was a complex, gifted and fascinating man, and to our great benefit, he poured all of those aspects into his songs.
John Winston Lennon would have been 72 years old today. Enjoy this mix of interview quotes and song lyrics from his diverse and prolific output.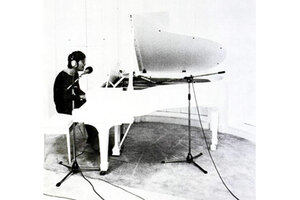 1.

Imagine
"You may say I'm a dreamer/but I'm not the only one."
("Imagine," 1980)