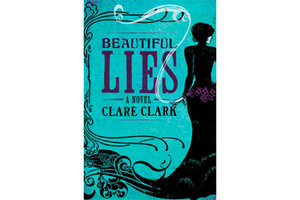 2.

'Beautiful Lies,' by Clare Clark

If there's one thing we've lost in the Facebook age, it's the ability to rewrite our history. People can't get away from bad yearbook photos anymore, let alone unfortunate pasts.

Secrets were easier to keep in the Victorian era, but society was far less forgiving.

In Beautiful Lies, Maria Isabel Constancia de la Flamandiere, a Chilean heiress and wife of a Scottish laird, gets the one thing that could destroy her happiness and her husband's political career: A letter from her mother.

Clare Clark's first novel, "The Great Stink," established her ability to recreate history accurately while still keeping pages flipping. The London sewers-set thriller was so atmospheric you almost needed a gas mask to read it. In her fourth novel, she based Edward and Maribel on Robert Bontine Cunninghame Graham, a radical politician and a founder of the Scottish Labour Party, and his wife, Gabriela.

She also highlights certain similarities between 1887 and today. In Queen Victoria's Jubilee year, there was a growing gap between the haves and the have-nots. Wages were falling, unemployment was high, and hundreds of the poor occupied Trafalgar Square (the fountains were a handy source of water).

Chain-smoking, poetry-writing Maribel would hardly thrive in today's political environment, but then, neither would her husband, Edward.

"Morality, he said simply, did not yield to self-interest. It was hard to imagine a man less suited to a life in politics than Edward."

Not to give too much away, but Maribel may have been less than forthcoming about certain aspects of her past (up to and including her real name).

The letter from her family could not come at a less opportune time: Alfred Webster, muckraking editor of The Chronicle, has taken an interest in both Edward and Maribel – one that may not be as admiring as he first professes.

Clark plays with the ideas of identity and image, while incorporating the Bloody Sunday riots, Buffalo Bill Cody's Wild West Show, and the growing interest in Spiritualism.

While photographing the native American cast behind the scenes at the show, Maribel looks at how a picture "if not strictly true, had the weight of truth about it."

Clark takes a similar approach to fiction and her free-thinking, iconoclastic couple. "Beautiful Lies" takes its time to develop, but its portrait of a woman determined to decide for herself who she is and a society less stable and comfortable than it imagines is a rich one well worth studying.