10 must-read books about higher education in America
Higher education in the United States is in a state of transition. In August, Bloomberg.com reported that "the cost of obtaining a university degree in the US has soared 12 fold over the past three decades" and "college tuition and fees have surged 1,120 percent" since 1978. Meanwhile, colleges facing budget cuts are increasingly hiring adjunct, part-time, and seasonal instructors for undergraduate courses. And liberal arts programs are being cut across the board, widely under-valued because they don't provide an education that leads directly into a high-earning career. All of which means that the college experience in the US has changed drastically in recent decades. Here are 10 books to help catch you up.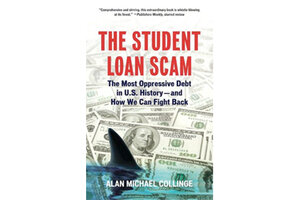 1.

'The Student Loan Scam: The Most Oppressive Debt in U.S. History – and How We Can Fight Back,' by Alan Michael Collinge

Student loans are not what they used to be. Yet many Babyboomer and older Generation X parents are still telling their children that student debt is "good debt." In an economy reeling from the 2008 financial crisis, this is wreaking havoc on the lives of many of America's young people. Parents and college students alike should read Alan Michael Collinge's sobering account of America's student debt bubble. This book is a wake-up call that will leave them better informed and far more equipped to make financial decisions for the future.