3 new novels about young adults who go to war
Eleven years after the U.S invaded Afghanistan, 2012 has turned into a banner one for fiction about soldiers' experiences of modern warfare and its aftermath. Interestingly, almost all have been by first-time novelists. Two novels about the war in Iraq – "Yellow Birds" and "Billy Lynn's Long Half-time Walk" – were nominated for National Book Awards and other noteworthy debuts, such as "You Know When All the Men Are Gone," have garnered rave reviews for their ability to translate into fiction a world few of us in America now experience.
In this week's fiction roundup, young men and women go off to war and struggle to find their way home again. All three novels are highly ambitious works by debut writers, two of them veterans, and all stick close inside the minds of their main characters, whose grip on rational thought might not be as tight as first appears.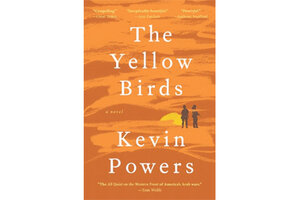 1.

'The Yellow Birds,' by Kevin Powers

Powers was nominated for a National Book Award for his blistering story of a private remembering the death of his teenage friend. John Bartle and Daniel Murphy were in the same unit, and Murphy's mother made the larger, stronger Bartle promise that he would bring her son home.

Bartle's sergeant punches him in the face for raising her hopes, but Bartle is only beginning to suffer for his rash words.

While Powers is a lyrical writer, there's nothing dreamy or sweet about the marching cadence that gives the book its title. Things don't end well for the bird.

Ben Fountain's outstanding "Billy Lynn's Long Halftime Walk," also a finalist for the National Book Award, remains the year's best war novel. But in "Yellow Birds," Powers, a veteran who served 13 months in Iraq, does something Fountain can't. He shows readers a glimpse of the fear and isolation soldiers labor under and the numbing effect of living with violent death on a daily basis.

"We only pay attention to rare things, and death was not rare," Bartle recalls from the safety of years and his cabin in the Blue Ridge Mountains.

The novel toggles back and forth between an all-but-catatonic Bartle trying to sleep away his days in his mother's home in Richmond and Bartle and Murph stationed in Al Tafar where fields of hyacinth have been replaced by rubble.

The returning Bartle is so frozen that he can't answer everyday questions like, "Hey, how are you?" The real answer, which he keeps locked away: "I feel like I'm being eaten from the inside out and I can't tell anyone what's going on because everyone is so grateful to me all the time and I'll feel like I'm ungrateful or something. Or like I'll give away that I don't deserve anyone's gratitude and really they should all hate me for what I've done but everyone loves me for it and it's driving me crazy."

"Yellow Birds" occasionally can get tripped up by its own poetic language, but Powers delivers an ending so stunning, in both senses of the word, that it makes up for any errant flights of lyricism.