Pablo Picasso: 10 quotes on his birthday
Pablo Picasso was born on Oct. 25, 1881 in Malaga, Spain. His father was an artist who taught his son to draw and paint from an early age. By the time he was 13, Picasso had surpassed his father. Despite his youth his extraordinary application won him a place at Barcelona's prestigious School of Fine Arts. At age 16 he moved to Madrid to attend the Royal Academy of San Fernando, but spent much of his time skipping classes and wandering the city to paint. When he moved back to Barcelona in 1899, Picasso joined a group of artists and intellectuals. He began to move away from classical painting methods in which he had been trained and began to experiment and innovate in his art. In 1907 Picasso painted "Les Demoiselles d'Avignon," the painting which many point to as the forerunner of and inspiration for Cubism. Picasso went on to become one of the most celebrated and influential painters of the 20th century. A revolutionary artist, Picasso had the vision and the courage to try things that had never been done before and he was not afraid to keep changing. As Picasso himself explained it: "Whenever I wanted to say something, I said it the way I believed I should."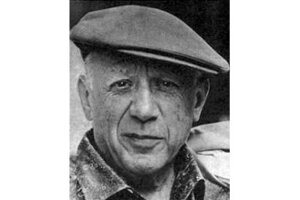 1.

All children are artists

"All children are artists. The problem is how to remain an artist once he grows up."