'And Now We Shall Do Manly Things': 5 stories from a writer exploring hunting culture
Author and journalist Craig J. Heimbuch was in his thirties when his father gave him a shotgun as a gift. Heimbuch – possibly the only member of his Midwestern family who didn't love going hunting – decided to explore, for one year, the hunting culture his family loved and to learn the history of the activity in the US as well as the perceptions surrounding it today. Here are five stories from his journey as recounted in his book "And Now We Shall Do Manly Things."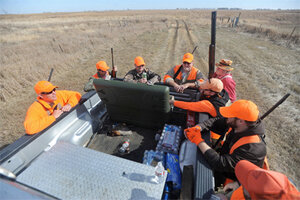 1.

Like shooting fish in a barrel

Before Heimbuch's father gave him a shotgun, Heimbuch had gone hunting a few times. One experience was with his father and his father's client at a private club which offered pheasant shooting. Heimbuch says it wasn't the most challenging experience. "You tell the man at the front desk how many birds you'd like to shoot, a transaction is made, and you are given a field assignment," he wrote. "While you, the hunter, are sorting out your gear and, perhaps enjoying a drink from the bar, workers from the club place your prepurchased birds in the field. I can't be sure, but I suspect this involves dosing the pheasant with adult-sized portions of NyQuil, then laying them among the scrub grass of the football-field-sized hunting lanes."