11 best books of November, according to Amazon's editors
Amazon's list of the best books of November, 2012, includes titles by big-name authors like Barbara Kingsolver and Ian McEwan as well as debut books by authors like Jacob Tomsky. In an exclusive interview with the Monitor, Amazon editorial director of books and Kindle Sara Nelson shares her thoughts as to why each book was chosen for this list.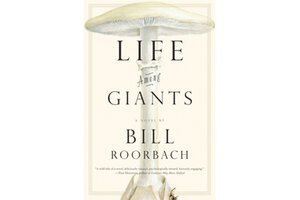 1.

'Life Among Giants,' by Bill Roorbach

"Giants," written by "Big Bend" author Roorbach, follows two siblings, David – also known as "Lizard" – and Kate, whose lives take a tragic turn when their parents are murdered. The two meet a mysterious woman named Sylphide, and try to find out what really happened with their parents' death. "He's the kind of oddball character you root for," Nelson said of Lizard. "One of the comparisons we made was with 'The World According to Garp'... it's a quirky book, very charmingly so."