10 books to read after the election
Are you a political junkie who's not quite ready for election season to end? Not to worry – the issues debated throughout the campaign haven't gone anywhere. If you're hoping to learn more about the challenges we'll still be facing in 2013, here are 10 new and upcoming books that might interest you.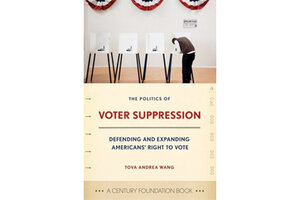 1.

'The Politics of Voter Suppression: Defending and Expanding Americans' Right to Vote,' by Tova Andrea Wang

Interested in learning more about the historical roots of efforts to decrease voter participation? It turns out that there isn't anything new about voter suppression. It has roots that go back about 150 years, well before Jim Crow. Why are voter suppression tactics dominated by Republicans these days? Is voter fraud really a serious problem in US elections? How does voter suppression undermine the operations of a robust democratic society? And what can you do to help all eligible citizens exercise their voting rights? Learn answers to these questions and more from this timely book.