'One for the Books': 5 stories from Joe Queenan's exploration of his life as a reader
Joe Queenan has always loved books, from his early years when he viewed them as "siege weapons" against his unusual upbringing to the present day when he likes to embark on projects like a year of reading titles he always thought he'd hate. In 'One for the Books,' he discusses his personal reading journey and how it has affected his life. Check out five of his stories.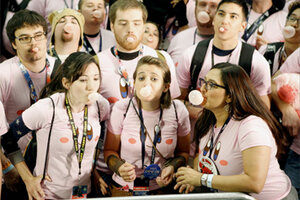 1.

Reading among the bubble gum

Queenan remembers taking the opportunity to read during late night shifts at a bubble gum factory. "I would volunteer to climb up into an overhead funnel and scour it, which the older ... full-time employees were loath to do," he wrote. "Some of them feared heights; all of them feared ladders. Once ensconced in my stainless-steel crow's nest – whose filth or cleanliness no one down below was in any position to verify – I would stir up a bit of a ruckus every so often, creating the impression that I was getting on with the housecleaning job, and then settle in amidst the sugar and the debris and read F. Scott Fitzgerald all night."