8 gifts for your favorite literature lover
From an annotated version of Mary Wollstonecraft Shelley's 'Frankenstein' to the year's most-talked about graphic novel, you should be able to find something special on this list for your favorite booklover – whether that's you or somebody else.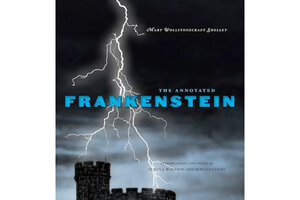 1.

'The Annotated Frankenstein,' by Mary Wollstonecraft Shelley and edited by Susan J. Wolfson and Ronald Levao

Mary Shelley's classic tale of the doctor who awakened a monster (Harvard University Press, $30, 400 pp.) gets an expanded treatment in the edition edited by Wolfson and Levao. This new treatment includes notes on Shelley's life and highlights literary allusions within the book. For example, after the line by the Creature "Cursed, cursed creator! Why did I live?," a note compares the text to a quote from the Bible in which Job raged, "Let the day perish I was born." The note points out that the Creature has gone further than Job by cursing his creator as well.