Frank Sinatra: 10 quotes on his birthday
Francis Albert "Frank" Sinatra was born on Dec. 12, 1915 in Hoboken, New Jersey, the only child of parents Natalie Della and Antonino Martino Sinatra. Sinatra's music and film career lasted 60 years. His first break came in 1935 when he joined a local music group, The Three Flashes, which became the Hoboken Four after Sinatra joined. In the swing era, he sang with Harry James and Tommy Dorsey, and moved to a solo career in 1943. He went on to produce albums for Columbia Records, Capitol Records, and for his own company, Reprise Records. Some of his greatest hits include "Come Fly with Me," "My Way," and "(Theme from) New York New York." Sinatra won 11 Grammy awards throughout his career. Besides being musically talented, Sinatra was an exceptional actor, winning an Academy Award for Best Supporting Actor for "From Here to Eternity" and a nomination for Best Actor for "The Man with the Golden Arm." He also performed in musicals such as "Pal Joey" and "Guys and Dolls." In 1985 he was honored with the Presidential Medal of Freedom from Ronald Reagan.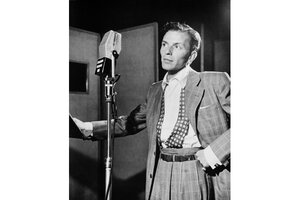 1.

Life: One day at a time

"I'm not one of those complicated, mixed-up cats. I'm not looking for the secret to life.... I just go on from day to day, taking what comes."