'West by West': 20 stories from Jerry West's autobiography
Looking for further insight into the player who was allegedly the basis for the NBA logo and is a legend on and off the court? Here are 20 stories about West from his autobiography 'West by West.'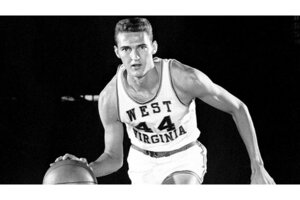 1.

Elgin Baylor: a favorite teammate

West was a great admirer of Laker teammate Elgin Baylor, whom he calls one of the most dignified people he ever met. They are immortalized on the same plaque at the L.A. Memorial Coliseum, which honors the city's sports greats.

West expresses disappointment that Baylor never had the satisfaction of playing on a championship team, since Baylor retired before the 1971-72 season, when the Lakers finally beat the Boston Celtics in the playoffs. What especially impressed West about Baylor's play was his creativity and his knack for using angles, such as in banking shots.