10 best books of February (plus one), according to Amazon's editors
From a look at the cities of the future to the much-anticipated new release from "Swamplandia!" author Karen Russell, Amazon's picks for the 10 most intriguing books of February – plus a featured debut – cover a wide range. Amazon editorial director Sara Nelson shares her thoughts on each book with the Monitor.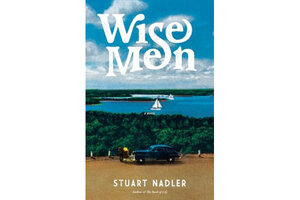 1.

'Wise Men,' by Stuart Nadler

Nadler, author of "The Book of Life," spins a story about a lawyer with a house on Cape Cod and the fraught situation created one summer when the lawyer's son, Hilly, falls in love with the African-American caretaker's niece, Savannah. Years later, Hilly, tries to locate Savannah, hoping to make amends for the difficulties he caused. Nelson says the book reminds her of the novel "Schroder" by Amity Gaige (the next Amazon pick) because of "the portrait of the father in the novel.... a guy who [is hard to sympathize with] and [yet] you like him anyway."