17 stories from 'Undefeated: Inside the 1972 Miami Dolphins' Perfect Season'
No team has ever done what the Miami Dolphins did 40 years ago in the Super Bowl – namely complete the only perfect season in the National Football League's long history. Every other team has stubbed its toe at least once along the way, and that's no different this time. In fact, entering Super Bowl XLVII, the 13-4-1 San Francisco 49ers completed the regular season without winning more than two games in a row, and the 13-6 Baltimore Ravens lost four of their last five regular season games. Here are 17 nuggets mined from Mike Freeman's retelling of how the Dolphins went 17-0.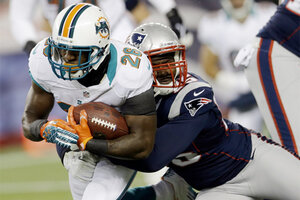 1.

The forgotten years

While the Dolphins didn't begin their existence as badly as the Tampa Bay Buccaneers once did by losing 26 straight games, people sometimes forget how dismal the Dolphins were in their early years. During their first four seasons, beginning in 1966, the team's record was 15-39-2. The franchise sold only 12,503 season tickets when it launched and the team's reputation for ineptitude made it something of a joke. In fact, among the Houston Oilers, if a teammate blew an assignment or messed up somehow, the other players would sing "Moon Over Miami," a sarcastic hint that the blunder might lead their being shipped to football's south Florida Siberia.