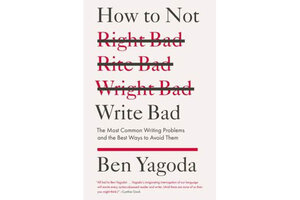 3.

"How to Not Write Bad: The Most Common Writing Problems and the Best Ways to Avoid Them," by Ben Yagoda

Ben Yagoda's new book How Not to Write Bad is a short guide to grammar, punctuation, syntax, and word flow. If you're a writer, you've probably mastered most of what it contains already. But I got most of my formal grammar and punctuation training in elementary school, which I finished more than 20 years ago. And there are at least a couple of recent changes I hadn't noticed yet. This quick primer is a perfect refresher and update on writing acceptable copy.

And that's not all. The book's primary audience is college students. Since most writers supplement their incomes by teaching, they run into many of the same student errors over and over again. If I were teaching right now, I'd ask my students to purchase this book – and refer to it as needed to improve their writing.