10 best books of April, according to Amazon's editors
From an examination of (yes, really, stay with us here) the digestive system to a novel about a group of camp friends and their lives over decades, the best books of April as picked by Amazon's editors cover a wide range of topics. Here are their 10 picks (plus one) for the cream of the crop, with thoughts on each title from Amazon editorial director Sara Nelson.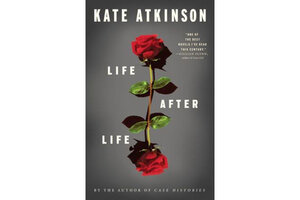 1.

'Life After Life,' by Kate Atkinson

Nelson calls Atkinson's work, which is the Amazon Spotlight Pick for April, a "masterpiece." It's 1910 and protagonist Ursula Todd is born but, sadly, dies at birth. Then, it's 1910 again, and this time Ursula Todd is born and survives. Through this clever tale of alternative realities, Ursula continues to die and then live again as she moves through the early 20th century and World War II threatens. "It sounds like an odd construct and it is odd," Nelson says of the book by Atkinson, who is the author of "Started Early, Took My Dog." "I think it's an extraordinary, kind of brilliant play on time and redemption."