Javascript is disabled. Quiz scoring requires Javascript.
Shakespeare: a short quiz on the work of the Bard
The only thing we really know about Shakespeare was that he was a very good writer. Most of the "study" done on his life is extrapolation based on the themes of his work. Hard evidence is hard to come by. We know that he may have been born on April 23, 1564, and probably died in 1616. Some people doubt he ever existed, while others insist that he couldn't have written everything that is attributed to him. In the end, all we really have is his work and its themes – love, loss, betrayal, revenge, triumph, courage – which have not lost their significance with the passage of time.
So how well do YOU know Shakespeare's work? Screw your wits to the sticking place and take our quiz!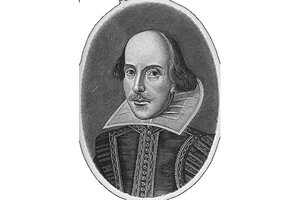 1.

"Doubt thou the stars are fire; Doubt that the sun doth move; Doubt truth to be a liar; But never doubt I love."