'Once Upon A Flock': 5 stories about raising backyard chickens
Lauren Scheuer's husband and daughter were skeptical at first about the idea of keeping chickens in the backyard, but when the tiny fluffy chickens actually arrived, every member of the family fell in love with them. Scheuer chronicles her adventures with her pets in the new book 'Once Upon A Flock.' Here are a few of her stories.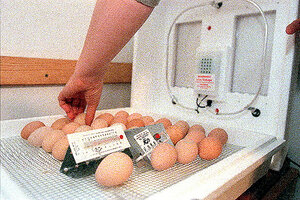 1.

Early excitement

The idea of raising a flock of chickens appealed to Scheuer immediately. She loved being outside in her yard and had often played there with her daughter, but Sarah was getting older and was spending more time indoors. "My family would come skipping out into the sunlight to enjoy them with me," she wrote of the chickens. "And even if my family never emerged, I would have a bunch of birds to call my own.... And fresh eggs!.... Backyard eggs would be my ticket out of the factory farm conundrum. No longer would I have to buy supermarket eggs and feel guilty about it, knowing that the chickens who produced them had most likely never seen sunshine or enjoyed fresh grass or bugs.... It didn't take much chatting with [neighbor] Patricia to get me hooked on the idea. She assured me that raising chickens was both easy and fun."