Javascript is disabled. Quiz scoring requires Javascript.
Poetry month: Try our quiz!
April is poetry month. To celebrate we've created a quiz to test your memory and your knowledge of poets classic and contemporary. What better month to uncover something brand new or to rediscover an old favorite? We hope this month expands your poetic horizons. (Also, don't forget our Poetry section!)
Here are pieces of 17 poems. Match the poet to the poem ... if you can!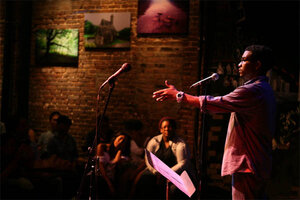 1.

Who wrote this?

"Whose woods these are I think I know.

His house is in the village though;

He will not see me stopping here"