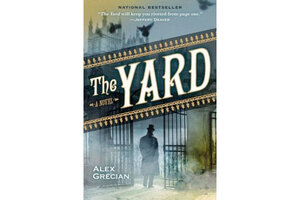 3.

TRADE PAPERBACK FICTION

1. Beautiful Ruins, by Jess Walter, Harper Perennial
2. The Great Gatsby, by F. Scott Fitzgerald, Scribner
3. Where'd You Go, Bernadette, by Maria Semple, Back Bay
4. The Light Between Oceans, by M.L. Stedman, Scribner
5. The Language of Flowers, by Vanessa Diffenbaugh, Ballantine
6. The Paris Wife, by Paula McLain, Ballantine
7. The Orchardist, by Amanda Coplin, Harper Perennial
8. The Unlikely Pilgrimage of Harold Fry, by Rachel Joyce, Random House
9. Life of Pi, by Yann Martel, Mariner
10. The Perks of Being a Wallflower, by Stephen Chbosky, MTV Books
11. The Sense of an Ending, by Julian Barnes, Vintage
12. The Prisoner of Heaven, by Carlos Ruiz Zafón, Harper Perennial
13. The Night Circus, by Erin Morgenstern, Anchor
14. The Yard, by Alex Grecian, Berkley
15. Death Comes to Pemberley, by P.D. James, Vintage

On the Rise:
20. Last Friends, by Jane Gardam, Europa Editions
Gardam's third novel in her Old Filth Trilogy.