Boston Marathon bombings: 5 books to read in the aftermath
In times of national crisis such as the bombings at the Boston Marathon, does reading for pleasure do any good? The great food writer MFK Fisher provided an answer of sorts during World War II when she produced a cookbook, "How to Cook a Wolf," aimed at teaching Americans how to continue eating delicious meals even in the face of wartime shortages. She knew that readers might wonder why she was focused on such a thing at a time of national trial.
But affirming the best qualities of civilization is the best way to answer the worst qualities in human nature, Fisher told her readers several years after the war. "Then Fate, even tangled as it is with cold wars as well as hot, cannot harm us," she wrote.
Surely, good books rank with good food and good music as important ways to nourish our souls when times are bad.
Here are five books that offer special comfort in the wake of tragedies like the Boston bombings.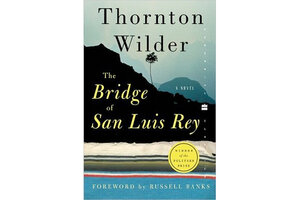 1.

'The Bridge of San Luis Rey,' by Thornton Wilder

First published in 1927, Wilder's novel tells the story of a bridge collapse in Peru in 1714, using the tragedy to explore the cruel acts of timing that allow some to be spared from harm and others to lose their lives. After the Sept. 11, 2001 terrorist attacks, then-British Prime Minister Tony Blair quoted from the book to honor the attack's victims, saying, "There is a land of the living and a land of the dead and the bridge is love, the only survival, the only meaning."